Connect and Share:

Brimfield is home of the world famous antique shows, also known as
the largest seasonal, outdoor event of its kind in all of North America.



Brimfield Exchange is the definitive dealer directory for the Brimfield Antique Shows. Find dealers, antiques and collectable's using Brimfield Exchange's Show Directory or Dealer Directory in Brimfield, MA home of the largest antique flea market.
Hunting for Antiques in Brimfield is fun. If you are looking for antique furniture in Brimfield, paintings, books, architectural, garden, glassware, nautical, vintage, clothing, clocks, jewelry, tools or something else, you can begin your search now! Find Dealers & Items Listed By Category in the left hand column of this page.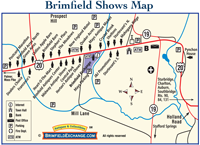 FREE Map & Easy Directions to Brimfield, MALooking for a nice hand held navigation tool with directions to the Brimfield Antique Shows?
Try one you can print yourself.
Map includes all major highways leading to and from the Antique Show.
Download and Print Brimfield Map & Show Schedule.


View the Brimfield Antique Show Dealer Map with show links – Once you arrive, you will need a Map with all the different Show (Field) Locations. This map has online links to each show and lists dealers signed up in the Brimfield Exchange dealer directory. See Brimfield Map
Find Brimfield Promoter Phone Numbers
Need a place to stay for the Brimfield Show? Find listings of Brimfield Hotels and Motels located in Sturbridge, Ludlow, Chicopee, Auburn, Springfield, West Springfield, Worcester and Connecticut.
Find a complete list of Bed & Breakfast and Inns in Brimfield, MA.
Brimfield's Dealer List and Directory - Brimfield Exchange updates and revises a list of registered dealers of the Brimfield Shows in a searchable online database with links to many of the dealers personal websites or online stores. Looking for someone or something? Visit the Brimfield Antique Show Dealer Directory
Everybody gets Hungry – After walking the fields all day, you may just want to get out of town and find a place to grab a bite to eat. See our List of Restaurants in the Brimfield Area
Which Airports service Brimfield? There are 5 airports within 90 minutes of the show. SEE ALL Airport Options near Brimfield, MA
Still Have Questions? Try our Brimfield Survival and Helpful Tips List