Where to Stay in Brimfield, MA

Airports - Car & Truck Rental - Campgrounds & Camping Resorts
Hotels & Motels - Bed and Breakfasts - Restaurants - Police
Find out where to stay in Brimfield, Massachusetts for the Brimfield Fair and Brimfield Flea Markets.
---
FEATURING: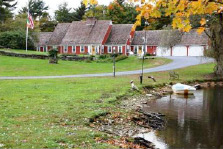 Bed and Breakfast Near Brimfield
HEART OF GOLD FARM
Located in Southbridge Massachusetts
(20 minutes from Brimfield)
Come stay, relax in this MAGNIFICENT, 5,000 sf. Post & Beam Country Estate nestled on 10 beautiful acres. You will no doubt enjoy this beautiful jewel of a retreat!
You can rent one or more bedrooms in this 5 bedroom home that sleeps up to 15 people! All bedrooms are beautifully furnished and most have a private bath.
IDEAL for Family Reunions, Corporate Retreats, Weddings, Anniversaries, Rehearsal Dinners, and Birthday Parties!
Enjoy all the comforts of home with modern amenities that include cable TV, Wifi, heat/central air conditioning, and washer/dryer. Location is at the intersection of this is the PERFECT place to rejuvenate yourself and take a break from the hustle and bustle of everyday life. Enjoy your getaway any time of the year!
PLEASE NOTE: Rent is $250 PER NIGHT PER ROOM with an additional fee for cleaning/taxes/administration. Rate may vary during peak times of year. Please inquire. Also, for large events, a facility may apply.
For more information, contact Cindy at cscott200@yahoo.com or 617-538-4908.
---
Hotels and Motels near Brimfield, MA:
AUBURN

Fairfield Inn & Suites
Exit 10 from Mass Pike(I-90) to Route 12 South, 1/4 mile on right, 718A Southbridge Street, 508-832-9500, www.Marriot.com/bosaw ffi.bosaw.gm@marriot.com



Holiday Inn Express Hotel & Suites
Exit 10, I-90, Route 12 North, 1 mile on left to 10-12 Johnson Street, 508-832-2500



La Quinta Inn
446 Southbridge St., 508-832-7000, 800-301-0200



Comfort Inn
426 Southbridge St., 800-228-5150



Hampton Inn,
736 Southbridge Street, 508-832-5531
BRIMFIELD
New England Motel
30 Palmer Road, 413-245-3348



White Coach Motel
Route 20, 413-245-9021



Elias Carter House
On the Common, 413-245-3267
CHICOPEE (back to top)
Days Inn
Exit 5, I 90, Bear Right, 1/4 mile on right, 450 Memorial Drive, 413-739-7311 www.daysinnchicopeema.com Email: chris_daysinn@yahoo.com



Hampton Inn
Exit 5, I 90, Rt. 33(Memorial Drive) North 2 traffic lights, U-turn hotel 2nd right, 600 Memorial Drive, 413-593-1500, www.chicopee.hamptoninn.com



Econo Lodge
Exit 6, I-90, bear right to 357 Burnett Rd., 413-592-9101, www.choicehotels.com/hotel/ma145



Quality Inn
Exit 5, I 90, 463 Memorial Drive, 413-592-6171, 1-800-4Choice



Plantation Inn of N.E., Inc.
295 Burnett Rd., 800-248-8495, 413-592-8200
CONNECTICUT (back to top)
Holiday Inn Express
Exit 64, I-84, 346 Kelly Rd., Vernon, CT Exit 64 off I-84 860-648-2000 Email lehoferdarlene@aol.com, www.HIEXPRESS.COM/vernonct



Quality Inn
Exit 63, I-84, Vernon, CT, From I-84 East, Exit 63, Left one mile on left. From West, Exit 63, turn right, one mile on left.800-235-4667 or 860-646-5700, QualityInnCT@prodigy.net



Comfort Inn
Exit 65, I-84, Vernon, CT From I-84, Exit 65, Right 1/4 mile on Left. 800-235-4667 or 860-871-2432 www.comfortinnvernon.com



Howard Johnson Express Inn
Exit 65, I-84, 451 Hartford Turnpike, I-84, Exit 65, Vernon, CT, From I-84 E, Exit 65, Turn Right 1/2 mile on left - I-84 W, Exit 65 Turn Right 1 block on left, 860-875-0781 or 800-446-4656



Sleep Inn
327 Ruby Road, Willington, CT 860-684-1400 / 800-SLEEP-INN /
HARTFORD / WINDSOR LOCKS

Baymont Inn & Suites
Exit 40, I-91, 64 Ella Grasso Tpke., Windsor Locks, I-91to Exit 40, to Rte 75 N. Turn Right off Ramp. Hotel on left 860-623-3336
LUDLOW

Comfort Inn & Suites
I-90, Exit 7, 321 Center Street, left at light off exit on Center Street, 1/4 mile on right. www.pvhg.com 413-589-9300
SPRINGFIELD (back to top)

Howard Johnson
I-90, Exit 7, Rte. 21 S, to Rte. 20 west, or I-91 N/S to Exit 8, I-291, to exit 5A, Rte. 20 E, 3.5 miles on L, 1356 Boston Road, 413-783-2111



City Scape Visitors Center(YMCA)
275 Chestnut Street, 413-739-6951



Comfort Inn
413-739-7311



Holiday Inn Springfield
711 Dwight Street, 413-781-0900



Sheraton Springfield Hotel
One Monarch Place, 413-781-1010



Springfield Marriot Hotel
Boland Way & Columbus Ave., 413-781-8750



Quality Inn
413-739-7261
STURBRIDGE (back to top)
Super 8 Hotel
I-90 to Exit 9 or I-84 to Exit 3B to Route 20 West 1/2 mile on right 358 Main Street, 508-347-9000, www.super8.com



Scottish Inns
(Route 131), From Mass Pike I-90, Exit 9 onto I-84 West: Take Exit 3B to Route 20 West; Turn left on Rt. 131 East; Inn is 1.5 mi on left,140 Main Street(Route 131), Refrigerator, HS Internet & Microwave 508-347-9514



Sturbridge Host Hotel
Exit 9 on I-90, to Route 20 West, .5 miles on right. 366 Main St., 508-347-7393 www.sturbridgehosthotel.com Full Service Hotel



Hampton Inn
Exit 9, on I-90, to Route 20 west, left @ first set lights, .25 m on left. 328 Main Street, 508-347-6466, www.myhamptoninn.com



Sturbridge Quality Inn & Conf. Cntr.
Exit 1, I-84, 400 Haynes Rd.,Route 15 behind Sturbridge Isle, 508-347-1978, www.sturbridgequalityinn.com



Quality Inn
478 Main Street, Route 20, 508-347-5141



Motel 6
408 Main Street, Route 20, 508-347-7327



Comfort Inn & Suites
215 Charlton Rd., Route 20, 508-347-3306



Days Inn
66-68 Haynes St., 800-329-7466 or 508-347-3391



Econo Lodge
682 Main Street, Route 20, 800-553-2666 or 508-347-2324



Green Acres Motel
Route 131 & Shepard Road, 800-545-3510 or
508-347-3496



Public House Country Motor Lodge
508-347-3313 Full Service Hotel with additions: Public House Historic Inn, On the Common, Route 131, 1-800-PUBLICK



Rodeway Inn
Route 131, 800-228-2000 or 508-347-9673



Southbridge Hotel & Conference Center
Mechanic St., Southbridge 508-765-8000



Sturbridge Country Inn
530 Main Street, 508-347-5503



Sturbridge Heritage Motel
499 Main Street, Route 20, 508-347-3943



The Red Maple Inn
217 Main Street, Spencer, MA 508-885-9205
WEST SPRINGFIELD (back to top)

Comfort Inn and Suite
Exit 4, I 90 to I-91 S, Exit 13A. After exit take first 2 right turns, 106 Capital Drive, 413-736-5000 www.choicehotels.com/hotel/ma016



Super 8 Motel
1500 Riverdale Street, I-90(Mass Pike), Exit 4, Route 5 South 1/2 mile on right 413-736-8080 www.super8.com



Red Carpet Inn
AAA, 560 Riverdale Street, I-90(Mass Pike), Exit 4, Route 5 South, 2.5 miles on right. From I-91, exit 13B; inn on right 800-525-5864, 413-733-6678



Best Western
Boland Way & Columbus Ave., 413-781-8750



Hampton Inn
1011 Riverdale Street, 413-732-1300



Quality Inn
1159 Riverdale Street, 413-739-7261



Red Roof Inns
1254 Riverdale Street, 413-731-1010
WORCESTER

Hampton Inn
110 Summer St., 508-757-0400
OTHER (back to top)

Copper Lantern Motor Lodge
184 Main Street, West Brookfield, MA, 508-867-6441



Howard Johnson Express Inn
1356 Boston Rd., Springfield, MA 413-783-2111



Redwood Motel
360 Worcester Road, Rt. 20, Charlton, MA 508-248-5371



Sheraton Bradley Hotel,
Bradley Intl. Airport, Windsor Locks, CT,
860-627-5311



Wedgewood Motel
1430 Park Street, Palmer, MA, 413-283-4501



Wilbraham Motel
2009 Boston Rd. (Rt. 20), Wilbraham , MA, 413-543-3787